Este artículo tiene gran valor ya que destaca que Johnson tiene, a parte de sus condiciones naturales fantásticas para el golf, la mejor Mente de la elite mundial de este deporte.
Y, notables las afirmaciones de los Guru Butch Harmon y Bob Rotella.
You see Dustin Johnson coming from a mile away. His shoulders slice through the air, rhythmically bobbing side to side, almost a shimmy. The arms flop with blissful disregard while his head stays completely still in a bubble of tranquility. The word "walk" doesn't do it justice; it's more aerodynamic. "Strut" comes to mind, but that word implies performance, and D.J. does not care who is watching.
He is an imposing figure—all of 6-foot-4, sinewy and lithe, full beard, pinch of dip. When the golf world is blessed with such an athlete, there's a compulsive desire to place him in another sport. He looks like an NFL linebacker. Got a torso like a swimmer. Johnson, however, has the perfect body for golf. These extraordinary physical gifts are a huge reason why he is No. 1 in the world, the reigning Masters champion and the game's alpha male.
Yet, as Johnson glides into his late 30s, it has become clear that what goes on between his ears—or, more importantly, what does not—might be his greatest strength. "His attitude is the best in the game," says his coach, Claude Harmon III. "Other than Jack and Tiger, you can make an argument that he has the best mind in the history of golf."
The conventional wisdom on Dustin Johnson, 36, goes something like this: He doesn't say much, so he must not be very intelligent. When asked at last year's Masters about his favorite Augusta National tradition, Johnson deadpanned: "the sandwiches." Not the green jacket, not the honorary starters, but the sandwiches. Was that the best he could come up with, or did he know what he was doing? In a zeitgeist when so many smart people seem eager to prove how smart they are, the challenge is to decouple those two qualities—to avoid mistaking silence for vacuousness. Yes, it's true that Johnson doesn't share much with the media. No, that is not by accident.
"We say that D.J. is sly like a fox," says Butch Harmon, who began working with Johnson in 2009 before handing off that responsibility to his son in recent years. "If you listen to his interviews, he doesn't give you much—a lot of yes or no answers. That's done on purpose so that he doesn't have to do a lot of interviews. He's smart that way."
The Harmons are not the only ones in awe of D.J.'s vibe. After playing with Johnson for the first two rounds of the 2020 Masters, which Johnson would go on to win by five, Rory McIlroy described D.J.'s approach as, "See ball, hit ball. See putt, hole putt, go to the next." It was a heartfelt compliment, perhaps with a hint of envy. Some players stand on the first tee at Augusta National and see trees left, a bunker right and future headlines racing through their heads. Johnson sees a welcoming canvas for his power fade—nothing more. "I try not to overcomplicate stuff—shots," Johnson says. "Obviously, I've played enough golf; I understand the game very well."
Therein lies Johnson's genius—a preternatural ability to remove narrative from the equation and focus on what he can control. Perhaps the adage "golf is a thinking man's game" needs an update given new insights into the brain and what peak mental performance looks like.
"I have spent my life teaching people to not think, as crazy as that sounds," says Dr. Bob Rotella, the legendary sport psychologist. "Too many thoughts, especially in golf, can be paralyzing. Dustin has a wonderful ability to be very interested in what he's doing but to underreact to everything. He never panics. Nothing seems to bother him."
Athletes pay people like Dr. Rotella to help them quiet their minds in the most pressure-packed moments—to hone the process rather than the outcome. The process is within one's control, the outcome not so much. It's possible to play well and shoot a bad score, but few golfers are able to reconcile that paradox. D.J. is one of the lucky few.
"When he hits one in the water or out-of-bounds," says Claude, "I'll ask him afterward if he wants to go hit balls, and he'll say, 'Nah, not really, I'm good. Didn't really hit it that bad today.' He'll shoot over par and say, 'I made one bad swing today. But I also made a lot of good swings.'
"Most players, they're all caught up in their score, in the bad things. Dustin is able to remove that from his thinking."
Johnson does not get advice from a sport psychologist, yet he might be the best embodiment of what they preach. He does not read self-help books. Nor does he read much at all, especially not since sons Tatum, 6, and River, 3, were born. He does not practice mindfulness—at least not consciously. "I probably do my own kind of meditation, without even knowing," he says. "I've never really thought about what I do. I just do it. I'm pretty good at doing that."
This Zen appears to be a D.J. thing rather than a Johnson thing—at least according to his younger brother, Austin, who has been Dustin's caddie since 2013. "I don't know where it comes from," Austin says, "because I didn't catch on to whatever he caught on to. He's been that way for as long as I can remember, in life and in golf."
Most caddies double as on-course psychologists, or at least sounding boards for when their players want to vent. An integral part of the job is knowing when to step in with words of encouragement and when to give your player a kick in the butt. Austin's job—looping for a man who named his boat Just Chillin'—is a little simpler in that way.
"Very rarely, if ever, do I have to say stuff like that," Austin says. "We're talking once or twice a year. He does more of that for me than I do for him."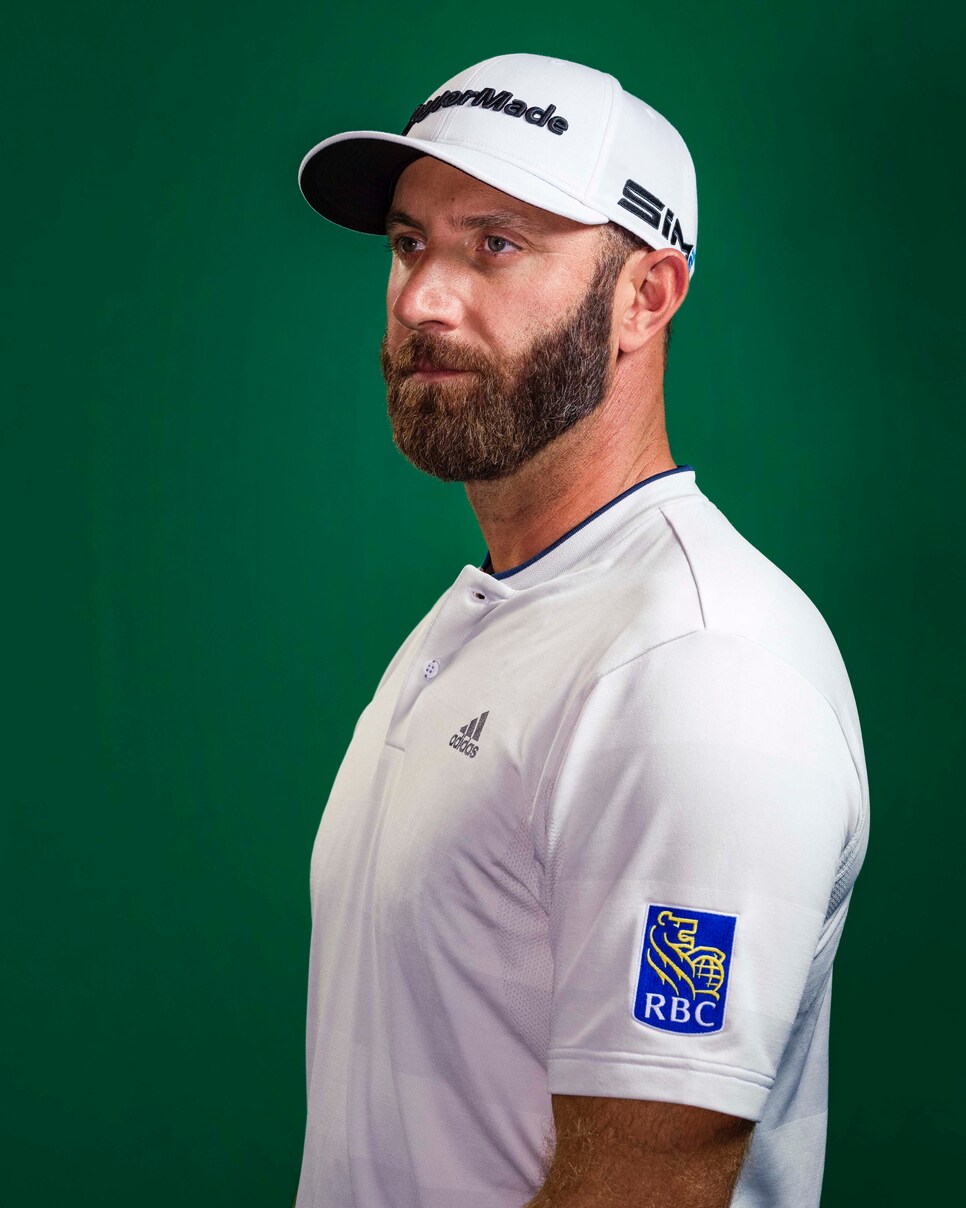 'I'M JUST SENDING IT, BRO'
The Zen has been there since Johnson was a kid, but becoming an all-timer requires more than a good golf swing and a chill aura. There is raw talent, and then there is refined greatness. Johnson's jaw-dropping potential was clear as soon as he arrived on tour as a soul-patched 23-year-old out of Coastal Carolina—the swing speed, the touch around the greens and the why-not attitude.
But the tour has a knack for exposing players' shortcomings, and Johnson's was volatility. He played a draw on almost every shot, which led to a violent left miss in pressure moments, and his "strategy"—if you could call it that—bordered on reckless.
"He was a free-wheeler," says Butch Harmon. "As he used to say, on every hole, 'I'm just sending it, bro.' He didn't take anything into consideration other than being totally aggressive on every shot."
At the 2010 PGA Championship at Whistling Straits, Butch and Johnson butted heads in a telling back and forth. Johnson was starting his week on 10, a drivable par 4 with a devilish green. Harmon knew Johnson could drive the putting surface and knew damn sure he would want to, but he pleaded with his then-26-year-old student to lay up and attack from the fairway because driving the green would almost certainly result in a three-putt.
Bro, I'm sending it, and I'm driving the green.
"Sure enough, he drives it on the front and three-putts," Butch says. "That was D.J. back then."
Johnson would miss a playoff that week after being penalized for grounding his club in a bunker on the 72nd hole. He was so impossibly talented that he could compete, and win, despite himself. Johnson won six tournaments in his first five years on tour and had great chances to win multiple majors: at Whistling Straits; earlier that year at the U.S. Open at Pebble Beach, where he had a three-shot lead heading into Sunday only to implode and shoot 82; and at the 2011 Open Championship, where he push-sliced a 2-iron out-of-bounds to quash his chase of Darren Clarke.
By nearly anyone's standards, it was a phenomenal start to a professional golf career. But Johnson is not anyone, and those close to him sensed he was underachieving.
Around that time, in 2013, he started dating Paulina Gretzky, the daughter of a man who did not underachieve.
"What we've given him as a family is the belief that he can be successful every week," says Wayne Gretzky. "What we've given him is a belief that one win a year, for a guy of your ability, is OK—but you can do way better than that."
Something needed to change if Johnson was going to realize his potential, and the mid-2010s proved to be a transformative period that molded Johnson into the polished player he is today. First, Paulina and the Gretzkys came into his life. Then, while she was pregnant with their first son in 2014, he took a leave of absence from the tour to seek professional help for "personal challenges."
"I've obviously been through about every situation you could possibly throw at me," he says. "So there ain't nothin'—it's going to be very hard to rattle me."
After returning in 2015, he had his best chance yet to finally win the big one. After two perfect shots into the par-5 finishing hole at Chambers Bay, Johnson stood over a 12-footer for eagle to win the U.S. Open. Sixty-two surreal seconds later he tapped in for par, and Jordan Spieth had won his second straight major. There was fear, at least from the outside, that Johnson might never recover. He had now had four majors in his grasp and blown all of them. The heartbreak was piling up, and this, a three-putt from 12 feet in front of the world, was the most crushing blow of all.
After the defeat, Paulina, Austin, Austin's then-girlfriend/now-wife Samantha and longtime agent David Winkle rode silently as Johnson drove the courtesy SUV back to the rental house. No one knew what to say; the entire team had been punched in the gut. Winkle gave D.J. a love tap on the shoulder to let him know everything was going to be OK. Johnson had had enough of the touchy-feely stuff. He pulled just off the road and turned to his inner circle with a firm message: "Lighten up! Guys, it's just golf."
The next day, Johnson flew to the Gretzky summer home at Coeur d'Alene in Idaho. He teed it up with Wayne and crew 21 days in a row and did not speak of that three-putt once. Nothing that Johnson could do would change what happened—so why give it an ounce of thought?
"That'd be like me losing Game 7, then going the next two weeks and playing pickup hockey with my buddies every day," Gretzky says. "It's unheard of. I knew he would get over Chambers because he just loves the game that much."
The turning point came that December, when Johnson was testing new TaylorMade woods on the range of Sherwood Country Club in Southern California. He and Butch had been working to develop a fade off the tee, but Johnson wasn't yet comfortable taking it from the range to the course. But when he couldn't keep his drives on the planet ahead of a round one day with his old hook, he decided he would give it a try. "Think I shot 61 or something," he says. "I'm like, All right." Next day, Johnson hit a cut every swing. Shot 62. The next day he faded every one again and shot another 62 or 61. Three days in a row. "I was like, All right, I'm playing a fade." It was literally that simple.
For most tour players, a significant change would be considered only after extensive launch-monitor testing, a coach's input, an equipment tweak and a review from both houses of Congress. As such, perhaps no anecdote better illustrates the delightfully uncluttered nature of D.J.'s mind than this switch. He was 31, squarely in his prime, the No. 8 player in the world, the winner of nine PGA Tour events—and all that came with the draw he had played his entire life. Then, one day on the range before a casual round with the boys, with nary a launch monitor nor an instructor in sight, he decided he would switch to a cut. He has been a fader ever since. It was that simple.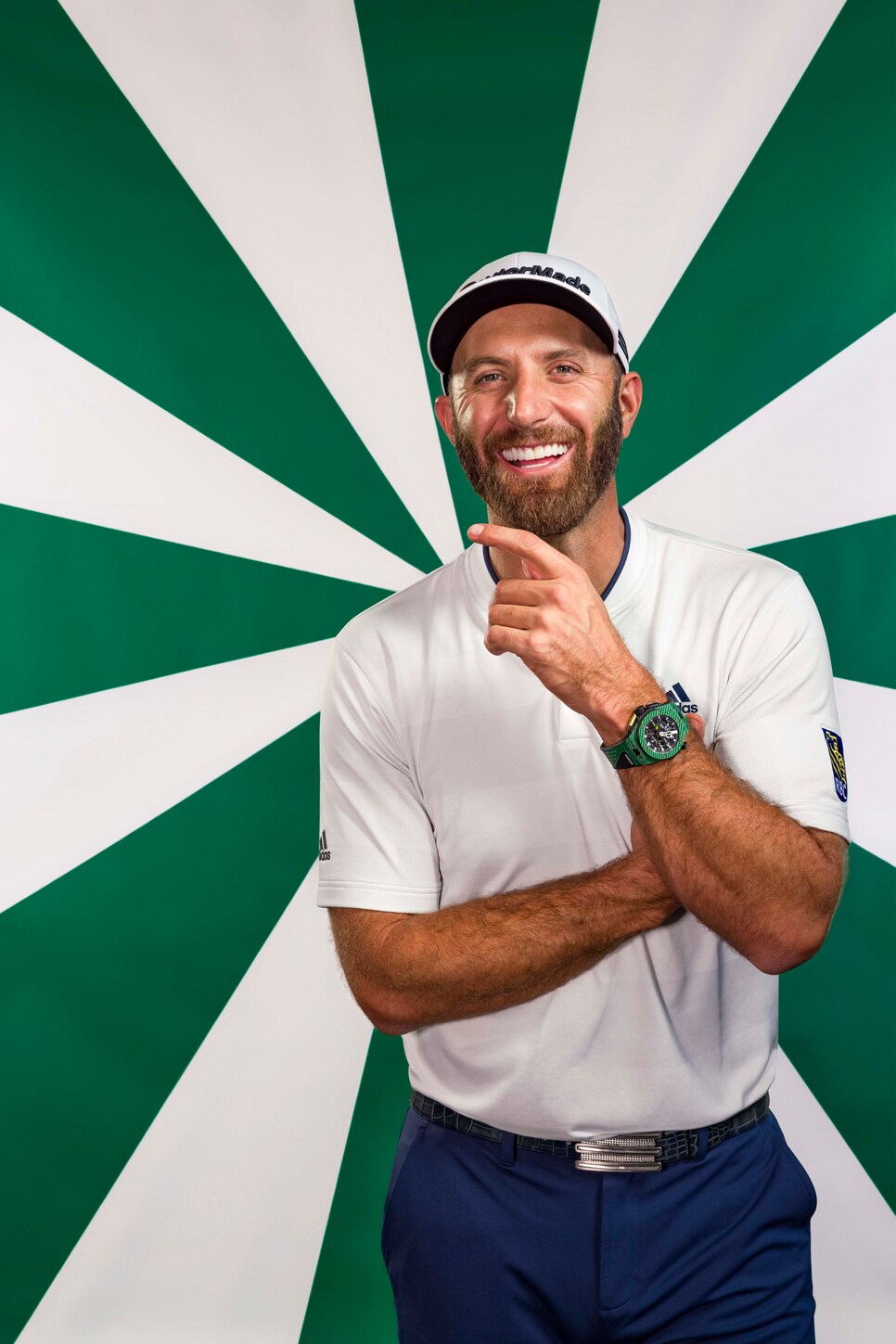 Using a fade that limited his misses but didn't cost him yards (he has been in the top 10 in driving distance every year he has been on tour), course-management discipline and a precise wedge game, Johnson made the leap from ultra-talented underachiever to one of the best players of his generation. The major breakthrough came one year after the Chambers calamity, at the 2016 U.S. Open at Oakmont, where he handled a messy final-round rules situation (and an eventual one-shot penalty) with characteristic aplomb. Again: Can't control it, so why worry?
"I liken him to a cornerback in the NFL," Butch says. "Gets beat plenty of times, but always straps it up and goes to the next play."
The wins piled up during the next three years. Johnson reached No. 1 in the world for the first time in February 2017 at age 32, something of a late bloomer in an age of 20-something phenoms. The one-win-a-year cadence hastened to three or four a year. The funny thing about winning a lot, though, is that people start to care only about the results in the four majors. Despite more close calls—a blown 54-hole lead at the 2018 U.S. Open, runner-up finishes at the 2019 Masters and the 2019 PGA Championship—Johnson had yet to add a second major to his growing trophy mantle. That was the narrative: extraordinary talent, great player, wins a lot, only one major. The couch shrinks had their theories: He tries too hard on Sundays, or he doesn't try hard enough. Plays too aggressive, or not aggressive enough. Can't close. The man himself, for what it's worth, never cared a lick.
"I care about what my friends and family think about me, I do," Johnson says. "But people I don't know—I don't form an opinion about someone I don't know because I don't know them. Why do they think they have the right to have an opinion on me when they don't know me? You can ask anyone who knows me—their opinion about me is going to be a lot different than what random people think.
"One thing I don't care about is what the media says. I couldn't care less. Truly."
The major-curse talk peaked after the 2020 PGA Championship at TPC Harding Park, where Johnson played his way into another 54-hole major lead. Remarkably, this came less than a month after shooting 80-80 at the Memorial and pulling out of the 3M Open after a first-round 78. "Golf is about having a long memory of the good things and a short memory of the bad," Rotella says.
"Dustin truly understands that."
This time, at least, Johnson couldn't blame himself for another major disappointment, shooting 68 that day at Harding Park only to be leapfrogged by a 64 from Collin Morikawa, 23, who was playing just his second major.
More scar tissue? Please. Two weeks later, Johnson shot a second-round 60 and a four-day total of 30 under par to win The Northern Trust. That field featured the top 25 players in the world, and the runner-up finished 11 strokes back. Yes, the near misses are part of Johnson's legacy, but so are weeks like those when he makes this most complicated game look astonishingly easy.
"Golf IQ-wise, he's a genius," Butch says. "You combine that with the physical—when he's on, he's the closest thing to Tiger Woods we've seen. If he's on and everybody else is on, he's going to win. The only difference is, Tiger Woods was on for 20 years."
Two weeks after his Northern Trust tour de force, Johnson won his first FedEx Cup title and entered the one-off November Masters as a clear favorite. Taking advantage of a gentler Augusta National, he played the first three rounds in 16 under par to earn his fifth 54-hole lead at major. He had gone 0-4 previously, but this time he had his biggest lead yet: four shots, setting the scene for a collapse or a coronation. When he chunked a chip into a bunker on the second hole, the Twitter fingers sprang into action. It was happening again. Surely nightmares of majors past were tormenting his thoughts. How could they not be?
"The only thing I was thinking, I can't believe I just chunked that chip. And that was it. Honestly, I knew I was playing well." He played his last 13 holes in five under to shoot 68 and finish at 20 under—breaking the 72-hole tournament scoring record (held by Jordan Spieth and Tiger Woods) by two. "He was very aware that winning the Masters was an opportunity for him to change the narrative, which in life, you rarely get an opportunity to do," Claude says. "You're put in a hole, and you can't get out of it. He knew if he won that, the narrative changes."
Maybe that's why Johnson succumbed to emotion on the 18th green. It was a jarring scene, like seeing your dad cry for the first time—you didn't know he was capable of it. But if there ever were a time to activate the tear ducts, this was it—a victory in the biggest golf tournament in the world, an hour's drive from where he grew up across the South Carolina border, and after so many close calls. Maybe he was thinking of all that as he struggled to find words—of Pebble and Whistling and Harding, of his maturation, of his children and his legacy. Or maybe it wasn't that complicated.
"As a kid, dreaming about winning the Masters—to do it, I thought that was pretty f______ cool."