THE NEW MASTER
AUGUSTA, Ga. — The new Masters champ is so down-to-earth he drives a minivan. He is so private that no one knew anything about his love life until well after he was married; probed why he had kept it a secret for so long he said, "Because no one asked." The new Masters champ is so soft-spoken the joke among the press corps is that while he doesn't speak much English he speaks even less Japanese, favoring terse, vague answers when interrogated by the omnipresent reporters from his homeland.
There is absolutely nothing colorful about Hideki Matsuyama except the little splashes of neon in his wardrobe and the pyrotechnics produced by his golf clubs. But he claimed this Masters with a vivid performance, taking control of the tournament with a garish back nine on Saturday and then with ruthless efficiency building what turned out to be an insurmountable lead on the front nine of the final round. Matsuyama, 29, becomes only the second man from Asia to win a major championship, joining South Korea's Y.E. Yang, a fun-loving character who quickly faded away. The new Masters champ has long been a world-class player—this is his sixth PGA Tour victory, including a pair of WGCs—but now he has a chance to become one of the sport's biggest stars. Japan is a golf-mad country and Matsuyama will be a focus of these Games. (There is already speculation he will have the honor of lighting the Olympic cauldron; Matsuyama drew some laughs in the champions press conference when he said he would consider it if his schedule allows.) ESPN analyst Andy North said on-air that this Masters victory could be worth $1 billion to Matsuyama in ancillary income, a fantastical number that nevertheless captures the scale of this win in Japan and throughout Asia.
"I think Hideki could compare to Ichiro and Sadaharo Oh," says Nobuhito Sato, a board member of the Japanese Tour, raising the name of two national treasures in trying to explain what a green jacket means in Japan. Ichiro is the future Major League Baseball Hall of Famer and Oh is the all-time leader in home runs in Japanese baseball and a crossover figure who was immortalized in a Beastie Boys lyric.
On Sunday evening Matsuyama stayed in character, declining to call himself the greatest Japanese golfer of all time, though he did allow, "I am the first to win a major. If that's the bar, I've set it." He added, "It's thrilling to think a lot of youngsters in Japan are watching today."
They may not build a statue to Matsuyama amidst the neon billboards of Shibuya but around Augusta National he should at least get a water fountain dedicated to his back nine on Saturday, when he shot a back-nine 30 to roar to a four-stroke lead. It summoned some of the most momentous third rounds in Masters history, which propelled legendary players to victory: Hogan's 66 in '53; Nicklaus's 64 in 1965, which he has called perhaps the finest round of his career; Seve's 68 in '80, the low score on a brutal day; Tiger's 65 in '97, which put him on the doorstep of history; Dustin Johnson's bogey-less 65 last year on the way to a Masters scoring record.
"When he's on, he's on," says Joaquin Niemann, a Presidents Cup teammate of Matsuyama. "I think this week he's definitely on. I think nobody can stop him when he's playing like that."
On Sunday, the defining question was how Matsuyama would perform with the weight of a nation on his shoulders. A nervy block off the first tee didn't inspire confidence. When he tapped in for bogey on the first green, Matsuyama had been on the course for 14 minutes and already his lead was down to one stroke thanks to a birdie-birdie start by the young upstart Will Zalatoris. But Matsuyama steadied himself with an up-and-down for birdie out of the greenside bunker on the par-5 second hole and then a crucial 15-footer to save par on the fifth hole. By then Zalatoris had cooled off and a host of would-be contenders (Xander Schauffele, Justin Rose, Mark Leishman, Jordan Spieth) were all going backward on a breezy day. Matsuyama has one of the heaviest hits in the game and he overpowered the par-5 eighth hole, sealing the birdie with a delicate chip. (His work around the greens was sensational throughout this Masters.) On the exacting ninth hole he drove it all the way to the upslope and then feathered a wedge to kick-in range.
By the time Matsuyama reached Amen Corner his lead was a whopping six strokes. He showed a certain amount of daring—some might call it recklessness—going for it on 15, and his laser-like 4-iron flew the green and wound up in the water hazard that's part of the 16th hole, leading to a momentum-shifting bogey. Schauffele (who played holes 3-5 in four over par to seemingly blow himself out of the tournament) birdied 15 to cut the lead to two strokes, capping a spirited run, but he promptly rinsed his tee shot on 16. Matsuyama played prevent defense from there, ultimately finishing a lone stroke ahead of Zalatoris.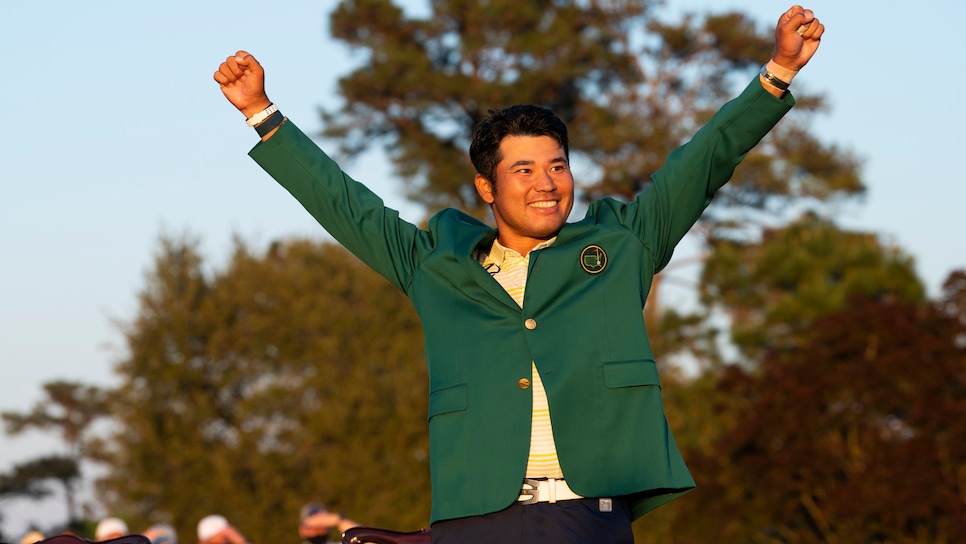 "I had a really good warmup and I felt really good going to first tee until I stood on first tee and it hit me that I was in the last group of the Masters and then I was really nervous," Matsuyama said. "But my plan today was to do my best for 18 holes. That was my thought throughout the day, just do my best, do my best."
That was plenty good enough, and now there is little doubt what will be served at next year's Champions dinner. Webb Simpson, one of Matsuyama's favorite mealtime companions, told GolfDigest.com on Sunday, "We always get sushi. He loves sushi. When I played in the Dunlop Phoenix [tournament in Tokyo], he invited me to dinner, and the restaurant shut down for him. He ordered for me. Yeah, that was a little more like kind of the raw sushi, like the stuff was living, and then it was killed and we ate it right away."
Matsuyama brings his interpreter, Bob Turner, to those dinners so the conversation can flow. He has little interest in acclimating to life on the PGA Tour, keeping his wife and child in Japan while he road-trips to tournaments. His love for his homeland has long defined his Masters experience. Matsuyama first announced his intentions in 2011, earning low amateur honors when he finished 27th thanks to a sizzling third-round 68. He had almost skipped that trip to Augusta because less than a month earlier the Great Sendai Earthquake struck the Tohoku region of Japan, from where Matsuyama hails. A series of tsunamis battered the coastline and a 50-foot wave flooded the Fukushima nuclear plant, triggering a meltdown and setting off a series of explosions. The death toll eclipsed 19,000. He dedicated his star-making performance at that Masters to his countrymen, saying, "I was very happy to be here, to play four rounds here at Augusta. There are some hard times right now in Japan. Hopefully my play was able to bring some encouragement to those that are in need right now."
Now, with the Tokyo Olympics being compromised by a global pandemic, Japan once again turns its lonely eyes to Matsuyama. But who is the man beneath all the expectations?
"We've had a lot of fun when we play together," says Niemann, a native of Chile who speaks passable English. "Obviously, we don't speak much, but we can understand, and we can like see in the eyes when you're laughing or something funny happens." When they bump into each other on the range Matsuyama gives his pal a pound and says in English, "Let's go, Niemann."
"It's funny to hear that word from him because you never hear him say anything," says Niemann.
Or perhaps Matsuyama eschews small-talk because he has an old-school belief that the glory is in the achievement, not the pontificating. This man of few words has now earned the two most coveted in the golf lexicon: Masters champion.

Alan Shipnuck is a partner with the Fire Pit Collective.